NHR HONORS GEORGE DECKER FOR HIS SERVICE TO NHR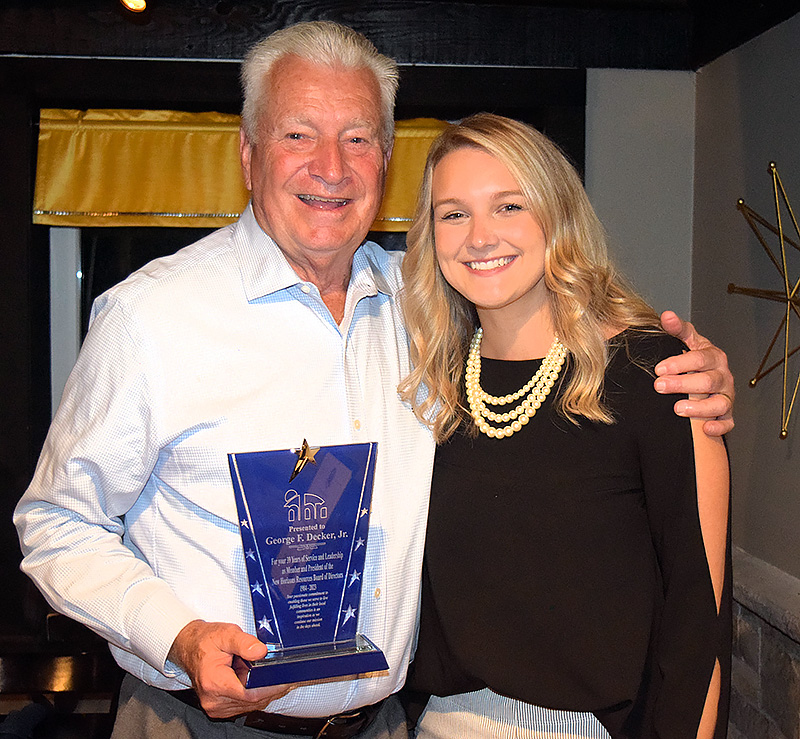 On Thursday evening, 9/28/23, George Decker made a motion to adjourn the meeting of NHR's Board of Directors. Apart from adjourning a meeting, the moment had special meaning as George had just completed a two-year term as the President of NHR's Board and was also stepping down from the Board after more than thirty-nine consecutive years of service. There wasn't a dry eye in the room (or on Zoom)! NHR was founded forty-nine years ago and George has been a stalwart supporter of the organization for 80% of the time that NHR has existed!
After the Board meeting, George, his family, fellow-Board members, current and former NHR staff and friends attended a reception in George's honor at Jason Patrick's on 44. Amid the good food and company, NHR's Board President Dan Hickey (and friend of George Decker) welcomed everyone to the reception and Sam Laganaro, NHR Executive Director, had the honor of reading a reflection on George's service written by NHR's former Executive Director Regis Obijiski who could not attend the reception. A copy of those reflections is included in this article and is important reading as it details two significant ways that George's leadership helped advance the strength of NHR's mission.
George gave a moving speech reflecting on his time at NHR and the evening concluded. There is a saying within NHR that nobody really ever leaves NHR – a piece of NHR remains with them and often brings them back in one way or another. George is no exception! Not a week into his retirement from NHR – George was on the phone with NHR's Chief Financial Officer to discuss ways NHR might better manage our cash reserves! NHR is hard to quit – and we like it that way.
NHR's Former Executive Director Regis Obijiski Reflects on George Decker's Contributions to NHR
Hey, George. Very sorry that could not be here in person for you, even though Sam said I am required to go to confession for committing a sin of omission. Even if I did show up, Sam said I am limited to one story. Here it is:
George, I remain grateful to you for many reasons, but the one etched in my memory, as emblematic of your principles and style, goes back to 1988, when our agency was still recovering from the catastrophic fire on April 2, 1987 that reduced a 75,000 square foot structure to a heap of ashes at our Hymes Campus in Ellenville. Miraculously, not one of the 165 people who lived there was injured in that 2 am blaze. Also, fire drills work! One year later, the displaced self-advocates and other people whom we were serving had already worked through their grief and were taking lively next steps for themselves. Campus life was over for them, so what's next? The group presented me with a petition to change the name of the Agency from New Horizons for the Retarded, Inc. to New Horizons, Inc. Their reason, simply put, was that the word "retarded" had changed from a description to a socially insulting label. I brought this petition to a meeting of the board of directors who engaged in a prolonged discussion on the reasonableness of a name change. When the discussion was nearly over, you spoke up next in your uniquely authentic style. You said something like this: "I have not experienced disability in my family as some of you have, so I want to be respectful of everyone here tonight. My background is that of a securities investment manager, a board member of an outstanding agency, and someone who deeply appreciates the love of family. In my work, if my customers are not satisfied or displeased for whatever reason, their dissatisfaction becomes my main concern, such that my colleagues and I must turn around a negative situation. At NHR, our customers are people with developmental disabilities. If they feel diminished by our corporate name, then we who are in the position of governance need to understand what they see as irrelevance and hurtfulness embodied in our corporate name. Altering a business name is, at worse, only an inconvenience and, under the circumstances, the right thing to do. After all the changes we have been through, what's more important than listening to the sincere advice provided by the people who are our very reason for being New Horizons?"
Your compelling insight led to a unanimous decision to change our name. One more thing was over leading to a next. Subsequent board meetings, including a board retreat, compelled the board to turn our organizational chart upside-down with persons with disabilities at the top, followed by direct support professionals (DSPs), and, at the bottom of the chart, in a position of enterprise stability was the board and administration. Restructuring the organizational chart was a powerful metaphor for re-affirming our values with greater emphasis. In 1988, that was a big deal! George, neither of us is 100 years old, but I am reminded of Norman Lear when he turned 100 last year. For those here tonight who are too young to have enjoyed this seriously funny man, he created many socially satirical and entertaining TV shows such as, All in the Family, Mary Hartman, Mary Hartman, and Sanford and Son. The interviewer posed this question: "Mr. Lear, you have accomplished so much in your life, so what have you learned?" Lear said he learned two words to live by: over and next. You need to know when something is over for you and then pursue what may be next. Those two little words have a big meaning for all of us who honestly try to make the most of the ubiquity of change.
There is an old saying at our beloved NHR that no one ever really leaves New Horizons. A part of you is always left behind and a part of New Horizons goes with you. Over and next are close allies for most NHR alumni. George, last week, we spoke on the phone when I apologized for not being able to man-hug you at tonight's celebration. I am involved in a new next that requires my presence tonight. This means I am once again taking New Horizons with me to help a struggling public service enterprise.
Finally, George, that board decision which you enabled by your unique brand of leadership is just one amazing example of how you have been able to help New Horizons heal more quickly from tragedy and propel positive thinking into effective strategies for 39 wonderful years. I am so grateful to have known you and have learned from you! …and, while we salute for your amazing contribution to the life of NHR, we thank you for blessing NHR's board with a vibrantly new "next"—your daughter, Paige Decker!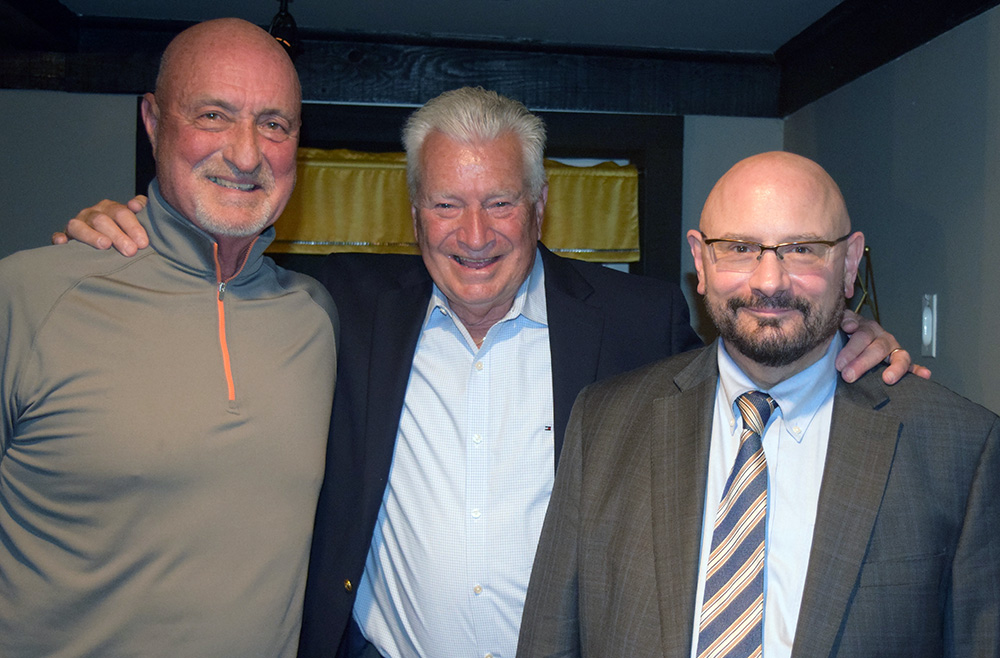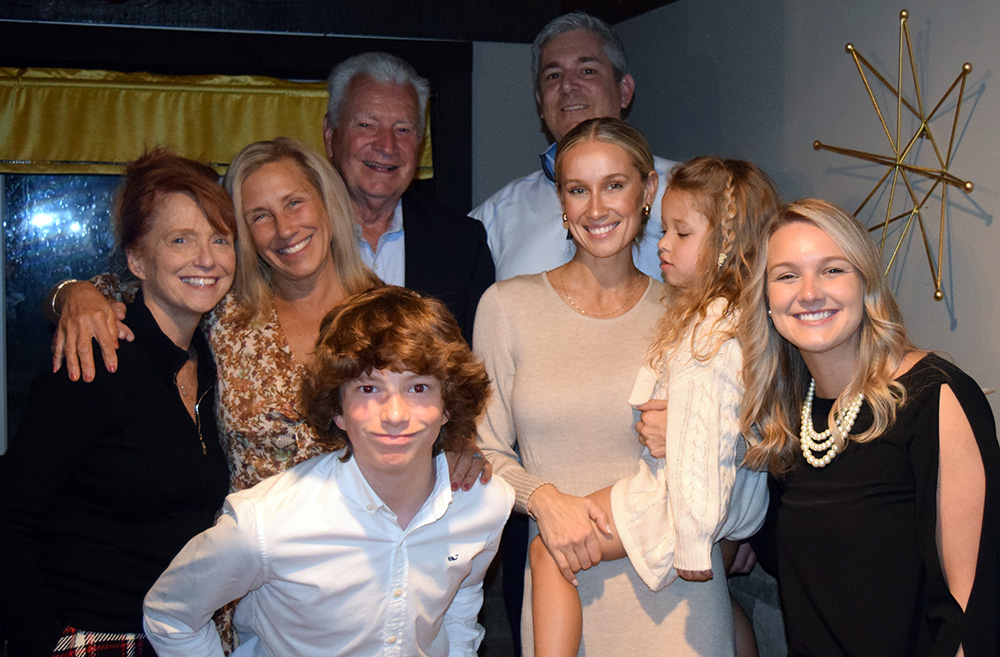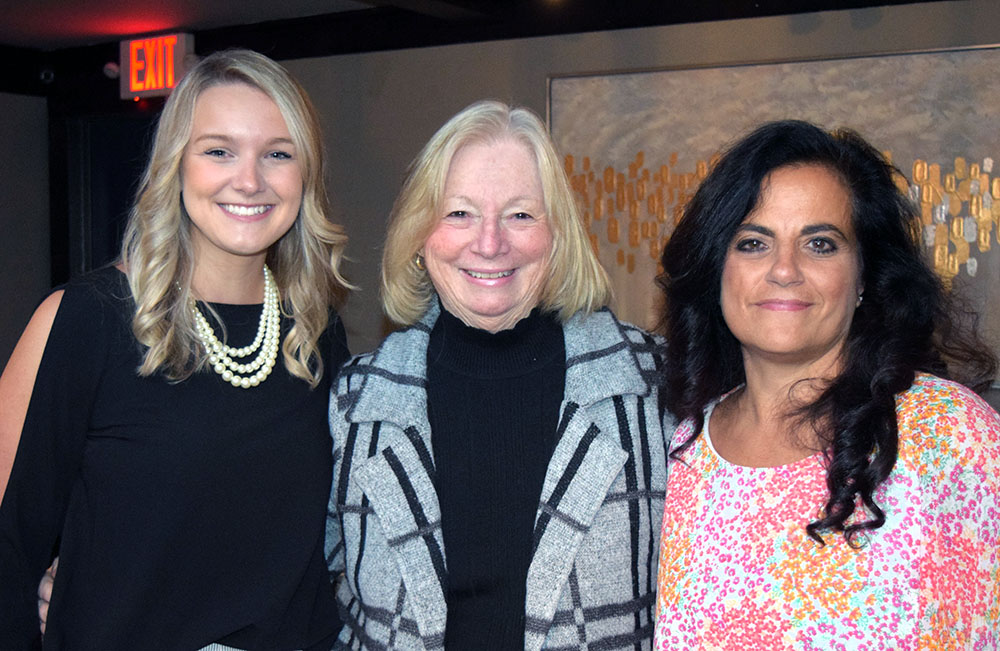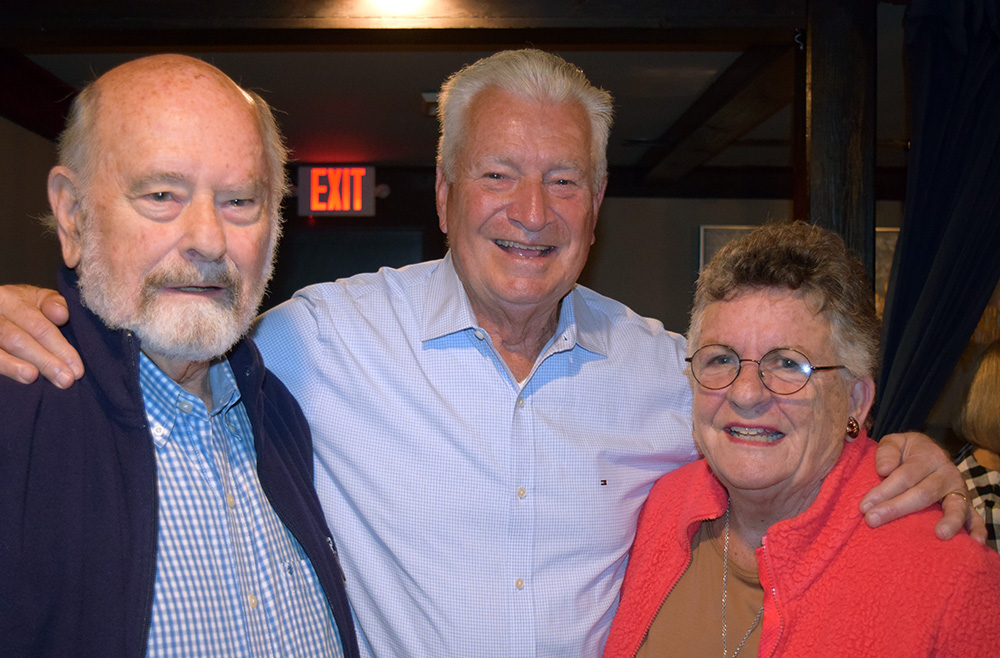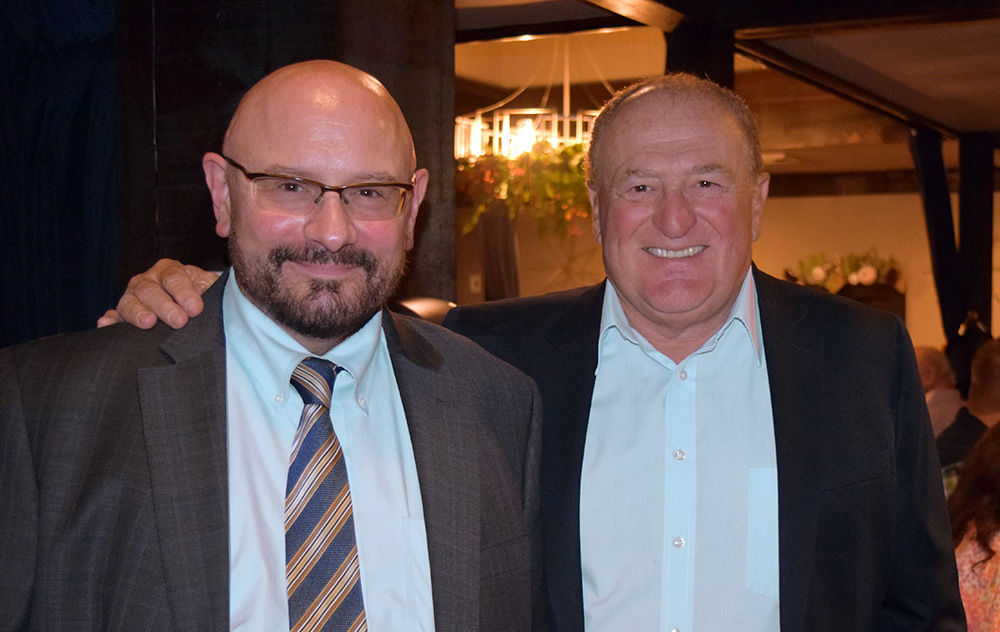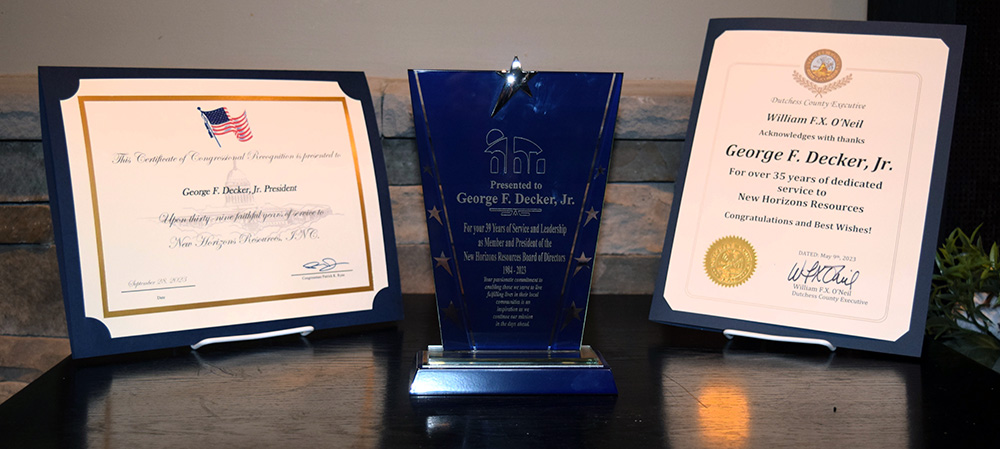 George Decker's Comments at Reception in His Honor
Good evening everyone, thank you for coming to this dinner tonight. This will be short and sweet, I promise! I want to thank New Horizons for allowing me to be on their Board for 39+ years. I have watched us grow into the amazing organization we are today with a budget of over 30 million dollars to support our wonderful residents.
In 1981, NHR opened a residence in eastern Dutchess County. Today we have 31 group homes and 12 supportive apartments in Dutchess and Ulster counties. We now have 278 full time employees, 54 part-time employees, 17 per diem and 116 relief workers. WOW!
I started with the New Horizons golf tournament in 1983. Dan Hickey and Bob Finn asked me to be on the golf committee. The following spring, Ed Moran and Dave Brinkerhoff asked me to join the Board. It was live at first sight and 39+ years later, here we are!
Bishop Callachico once told a story at mass that stayed with me. He was asked to perform a marriage for a couple that had moved out of state. He received permission from their new pastor to perform the ceremony. When the ceremony was over, he went to the pastor and told him everything was put away just as he had found it. The pastor surprised him and told him "That's not good!" He told him you should never leave a place, person or organization how you found them, "You should always leave them better!" I hope I've done that with New Horizons.
Two quotes I want to leave you with: "Those who bring sunshine into the lives of others cannot keep it from themselves." and "It doesn't matter where you go in life, it's who you have beside you." I want to thank my sons Richard and Brandon, my four daughters Ashley, Ariana, Jami and Paige and my wonderful wife Lori for their support on my journey with New Horizons. Thank you.